I started watching The Biggest Loser shortly after beginning my weight loss journey. The first season I watched was the one with Tara Costa—and anyone who watches The Biggest Loser knows how inspirational that girl is!
I follow her on Twitter and she is still doing amazing things. What an inspiration!
There have been several important lessons that I have learned while watching TBL.
LESSON #1: You too can workout hard. The most important thing that I learned from watching The Biggest Loser is that even overweight people can work out hard (as long as you have a doctor's release). Prior to TBL, I thought that if I worked my 288 lb. frame too hard, I would have a heart attack. Which, very well could have been the case—but the truth is, I was able to work out MUCH harder than I thought I could. Remember when Michael ran a 5K? This was when he was much closer to  his heaviest weight than his smallest!! SO inspirational!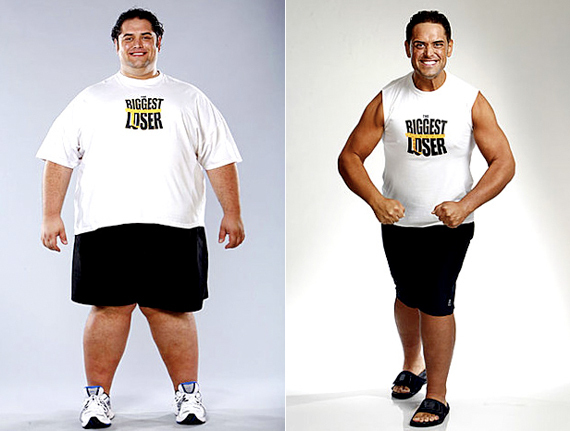 LESSON #2: Remember the ultimate prize. It's common for contestants to make a decision not to eat tempting foods in temptation challenges that could help them gain position in the overall game. They have the chance to win $10,000 but they are really there to gain health. Maybe those of us losing weight on our own at home don't have $10,000 to win, but we do have the ultimate prize of health and happiness and no temptation should come in the way of that!
LESSON #3: Acknowledge your successes. I get so annoyed with the contestants who lose amazing amounts of weight and cannot congratulate themselves on what they have accomplished. Instead, they say things like, "I was hoping to lose more." I love the contestants who have a positive attitude and acknowledge that any amount lost is a step in the right direction. It's important to pat ourselves on the back for our successes. Remember the positive attitude Courtney had?
LESSON #4: Drink water. Can you picture a TBL contestant without a bottle of water in hand? It's so important to stay hydrated.
LESSON #5: Surround yourself with positive people who support you and believe in you. From Bob, Anna, Dolvett, and even to Jillian (I miss her!)—these trainers are believe in their contestants and they teach them to believe in themselves. And results happen. The contestants are generally supportive of one another and that is integral to the success of each person. We can do this alone, but it's much easier with people around us who support us!
I'm sure there are a million more lessons that we could learn from the inspirational people on this show. I know this show has taught me that the impossible is possible if I believe in myself and put the effort in.
What lessons have you learned from The Biggest Loser?
Photo sources are linked to photos.