Fall is one of my favorite times of year for a variety of reasons, but fall food is definitely in the top three reasons!
When the weather starts to get cooler, I find myself in the kitchen wanting to bake or cook. It can be a tough time to stay on track with health goals because I want to eat all of the yummy comfort foods. The good news is that there are so many recipes out there that are both healthy (lower calories/points) and comforting. Here is a roundup of fall recipes.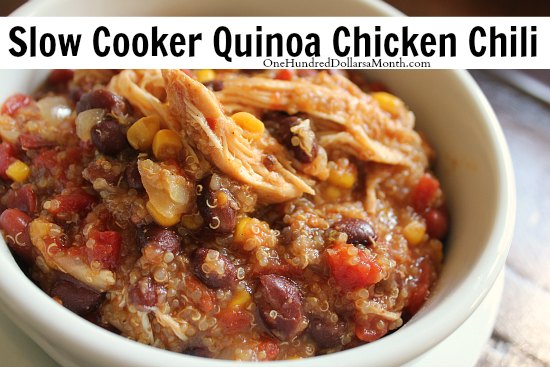 This recipe is healthy and deliciously tasty. When I cook this Slow Cooker Quinoa Chicken Chili from One Hundred Dollars a Month, we eat it topped with low fat cheese and a dab of 0% plain Greek yogurt along with a corn bread muffin topped with local honey. It's so satisfying you would never believe how incredibly good for you it is.
This Hungry Girl Sassy Pumpkin Soup is full of flavor. This version of the recipe is featured on Brooke: Not on a Diet, and will be perfect after a day of apple picking.
You won't miss French fries when you dive into this healthy alternative. Perfect Oven Roasted Potatoes are wonderful dipped in ketchup. 4 PointsPlus of perfection.
These Baked Creamy Chicken Taquitos come out of the oven hot and crispy! You will love them.
I love caramel apples but I hate eating them from a stick. With this Caramel Apple Nachos recipe from The Pin Junkie, you can share with the entire family. Just go easy on the toppings!
At only 3 PointsPlus, this Pumpkin Mousse is the perfect dessert to round out a fall themed meal. This is always a hit!
I don't know of anyone who misses the crust when eating crustless pumpkin pie. The truth is, omitting the crust saves quite a few calories! The Crustless Pumpkin Pie shown above is featured on PreventionRD.com.
I'm all about simple recipes and I love anything that can be quickly whipped together at the last minute. Moist Pumpkin Spice Cake is one of those recipes. You can also bake cupcakes with this recipe.
Share a link to your favorite fall recipe in the comments!